If you're building within 3 metres of a public sewer, you'll need our approval first. Before you start developing, you can apply to us for a desktop assessment and we'll let you know if there are any sewerage assets that might affect your work, potentially saving you time and additional costs down the road.
Check before you apply
First things first – before planning your building works, check if there are any signs of pipework nearby.
Tell-tale signs that there's a public sewer or drain under your property might be a manhole cover in your garden or a gully serving you and your neighbour. But even if there are no signs above ground, that doesn't mean there's nothing underground. If you're unsure, check your property's legal documentation or ask the architect or builder if they're aware of any public pipework within the boundary.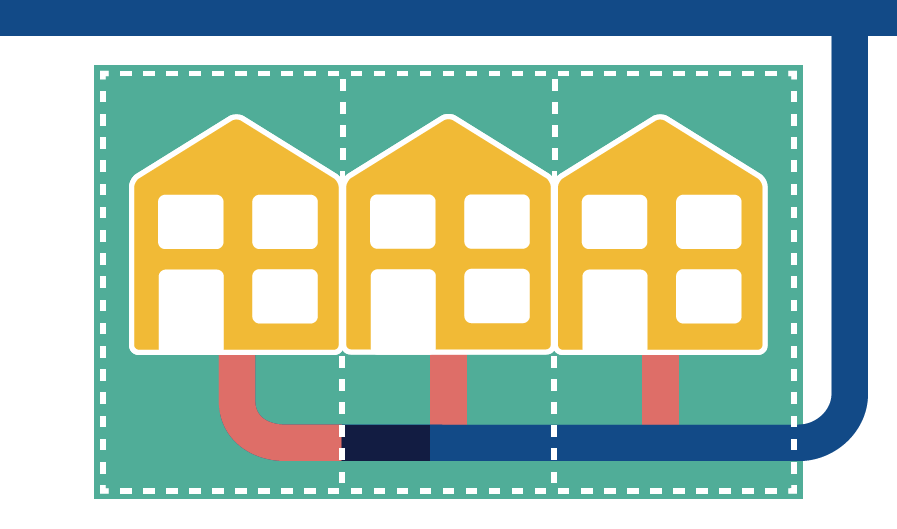 Private drain
The drainage system within your property boundary which only serves your property.


Public lateral drain
The section of drain which connects your property to the public sewer network and is located outside the boundary eg. neighbour's garden, highway or other land.


Public sewer
A wastewater pipe that joins more than one property and is connected to the existing sewer network.
You will need:
existing site information, including proposed development type
existing property layout (a drawing showing your existing property, including any sewer pipes, lateral drains or manholes/gullies you know of)
proposed property layout (a drawing showing where the proposed work will be, including any sewer pipes, lateral drains or manholes/gullies you know of).
Now accepting BACS
Apply online
Our online application form is the quickest and easiest way to apply.
You can pay your application fee by bank transfer or payment card using our secure system.
Application fee: £43 (desktop study only) / £150 (desktop study and site inspection)
Once you've applied and made the payment, we'll get back to you within 5 working days to let you know we've got your application and whether we're missing any key details.
How long does the assessment take?
When we have the details of your plan, we'll do a technical assessment, which takes about 14 days and includes us checking:
the details you provide us
the location and condition of any nearby sewerage assets
past blockages or issues in the existing sewerage system
if there are any relevant land rights and obligations, for example easements or protected strips.
Next steps
After we finish our assessment, we'll get back to you with either an acceptance letter or a letter outlining our objections to the plan.
Acceptance means we have no technical objections to the work you're planning. Hold onto your acceptance letter; you might need it if you're thinking of applying for building regulations approval or when you come to sell your property.
If you get an objection letter, don't worry – we'll explain the reasons why and share some alternative solutions with you. Alternatives might include making a small change to your design plan or to the existing sewerage system.
Found other sewerage assets after starting the work?
If you start working on site and find that the sewerage system is different to what you expected at the design stage, do get in touch with us at the earliest opportunity. Even if you've already been given an acceptance letter, we'll still need to know about any differences to the sewerage system that you find on site during the work.