The Living with Water Community Hub is a one-of-a-kind facility providing an inspiring and interactive space for schools, students and the wider community to learn all about water and climate resilience.
It has been created by Yorkshire Water and Living with Water, in partnership with Yorkshire Flood Resilience and Wilberforce Sixth Form College.
Our Learning Lab is run by one of our education advisers and is located within a secure location at Wilberforce College, easily accessible by public transport.
This 'wet lab' is a hands-on space designed to educate people on water cycles and flood risk in our area. Within the lab, there is a 3D model to showcase sustainable drainage solutions (SuDS) and how they work, as well as an interactive LED wall screen to be used as a teaching tool on the topic of flooding.  Our programme offers students practical opportunities to participate in activities to increase climate resilience which could enable children and young people to translate knowledge into positive action to improve their local communities.
The space is used by Yorkshire Water's education outreach team to deliver lessons to school pupils around water cycles, which support Key Stage 2 curriculum requirements.
Here's some feedback from one of our visiting schools in 21/22:
"The session was organised well.  The leaders managed the classes (which have varying needs) really well.  The structure in the main room and the seating worked well to ensure all children remained focused.  The leaders responded to children positively and encouraged them to deepen thinking with the use of why.  Each activity was well thought out and scientific language was used throughout and clarified continuously."
Key Stage 2
We offer a programme of free sessions for primary schools and bespoke sessions for other ages and groups.
There are two half-day programmes currently available:
Properties of water

A half-day session covering our Properties of Water topic will an introduction or recap on the water cycle, water as a solid/liquid/gas and reversible changes.

Water cycle & states of water (20 minutes)
Practical session in the learning lab (80 minutes)

Sewer pipe and FOG (fats, oils & grease)
Living in water – plants & animals
Road flooding

Plenary session. What have we learnt? (approx. 20 minutes)

Sessions timings are 9.45am – 11.45am or 12.45pm – 2.45pm.
Please note that we can only take one class per session.
Classes can book onto both our 'Properties of Water' topic and our 'Living with Water' topic, to provide a full day visit.
Living with water

A half-day session covering our Living with Water topic will provide an introduction to the concept of flooding and flood risk including solutions to tackle the problems of flooding:

Introduction to the topic, 'What is flooding?' (10 minutes)
Practical session in the learning lab (90 minutes) including:

Permeable & impermeable material investigation
Materials affecting flooding risk
Demonstration of how sustainable urban drainage works
Melt an ice cube experiment

Plenary session. What have we learnt? (approx. 20 minutes)

Sessions timings are 9.45am – 11.45am or 12.45pm – 2.45pm.

Please note that we can only take one class per session.

Classes can book onto both our 'Living with Water' topic and our 'Properties of Water' topic, to provide a full day visit.
Our programmes have been developed with the help of school teachers and cover key elements and targets of the national curriculum at Key Stage 2. These include:
Geography - human and physical geography, water cycle, distribution of natural resources including water, locational knowledge of coasts and rivers, topographical features.
Science (Year 4) - states of matter, evaporation and condensation in the water cycle, living things and their habitats, human impact on the environment.
Science (Year 5) - properties and changes of materials, states of matter, evaporation.
English - supporting writing, vocabulary and composition.
Maths - supporting number addition/subtraction, measurement and statistics.
PSHE - Climate change - Helping students to understand how small changes they make at home, or in school, can make a big difference to our planet and help to reduce everyone's impact on the environment.
Eco Schools - If you are already an accredited Eco-School or on your way to becoming one, water is of course one of the 10 topics you can choose from within your school's project!

What better way of giving your students an understanding of the importance of water than planning a visit with us to talk about 'all things water'.

We cover many of the requirements of the Eco-Schools Green Flag questions / requirements for Eco School Status, such as helping your students understand how to save water and not waste water, as well as topics such as what should or should not go down the toilets, helping them to understand how small changes at home or in school can really help our planet.

For more information about this, visit Eco Schools website at: https://www.eco-schools.org.uk/ten-topics/water/
Joining us for lunch?
Take on our Waste Warriors Challenge!
If you are visiting us for the full day, we invite your group to take part in our Waste Warriors challenge. We'd like to challenge you to bring a lunch that uses as little amount of waste as possible so students are exposed to sustainable food choices and recycling.
Education Adviser
Margaret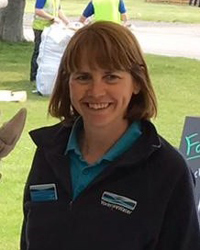 I've been an Education Adviser since we opened our education centre at Tophill Low nature reserve in 2017. Prior to joining Yorkshire Water, I taught in secondary and primary schools, completed a research project with Hull University on outdoor learning and have been a field teacher with the RSPB. I'm passionate about teaching and learning outdoors about our natural environment but also keen to inspire and enthuse pupils about science in the classroom. As well as leading the education programme at Tophill Low, I support the Living with Water project in Hull and East Yorkshire, delivering exciting and thought-provoking sessions through outreach work in local schools.
Location & Risk Assessments
The location of our Living with Water Learning Lab is Wilberforce College, Saltshouse Rd, Hull HU8 9HD.
Prior to your visit, we will send you a copy of our risk assessment. 
Our primary school visits are usually free of charge, but please be aware that should you cancel with less than 3 weeks notice, we regret that we will have to charge a cancellation fee of £100 per session.
We do not charge cancellation fees in circumstances where there are bad weather conditions which would either (a) prevent you getting to our sites or (b) cause health & safety concerns during your visit. Should cancellations occur due to bad weather conditions, or for operational reasons out of our control, we will work with you to rebook your session at a mutually convenient time.
Should your group have any specific needs in terms of access, please let us know as soon as possible.
Learning Lab risk assessment form
Book a visit to our Living with Water Learning Lab
To avoid disappointment we recommend you book early!
Once a booking has been made, we'll offer you a resource pack and send you a pre-prepared risk assessment.
Learning Outside the Classroom Quality Badge 
Our education centre at Wilberforce has been awarded the Learning Outside the Classroom (LOtC) Quality Badge.
This is a national accreditation, recognising the essential elements of provision - learning and safety. We achieved the LOtC Quality Badge by demonstrating that we offer good quality teaching and learning experiences and that we manage risk effectively.
This is an important achievement as it provides an assurance that we:
Offer what we say we offer
Take account of the needs of our users
Place emphasis on 'learning/skills outcomes'
Operate in a healthy and safe environment
Our Learning Outside the Classroom Quality Badge Certificate for Wilberforce