Why at my property?
We're targeting areas across the Yorkshire region that have a higher risk of flooding from the public sewer.
Your property may not necessarily be at a higher sewer flooding risk; however, we'd like to monitor a selection of properties in these areas to get a better understanding of the flood potential.
How will you monitor the sewer flooding risk?
We'll use a special logger device that measures water level rises when the probe is submerged in water.
When the water level rises, this turns the device on and sends a phone signal alert to let us know. We then manage our alerts across the region though our control centre and send our technicians out to remove blockages from the network. Depending on the cause of the alert we may raise further work to prevent this happening again.
By installing this logger device we're lowering the chance of public sewer flooding at your property.
Do I have to pay anything?
No, there's no cost to you at all.
What information is being collected?
We're not collecting information about your property or your wastewater usage. We're monitoring the water level in your sewer to allow us to be proactive in dealing with blockages before they cause flooding.
Where is it fitted?
The logger will be fitted to the wastewater network - this is where your washing machine, toilet and sink waste goes. We may fit the device to the grill of the drainage gully, or to the soil vent pipe or within a manhole chamber linked to your property.
Will you need to come into my house?
No, all we need is access to the waste infrastructure outside your property.
Do I need to be home when you do the work?
No. All of this work is outside so no access is required to your home. If you do have locked gates, simply let us know and we can arrange a convenient date for the installation.
How long will it take?
The installation should take around 30 minutes and the installation work will occur Monday to Friday.
Will access to my property be affected?
No, we'll try our best not to get in your way.
Will my water go off?
No, this won't affect your water supply. We won't need to turn off your water as the logger device is fitted to the waste network.
Will you be digging in my garden?
No, there is no need for digging. Our operative will assess your property and select the logger installation which best suits your situation.
What does the logger device look like?
There are two types of logger, and our operative will select the best one to suit your drain. Below are examples of what it looks like when fitted in a gully.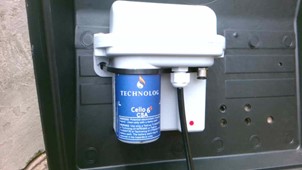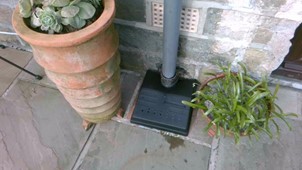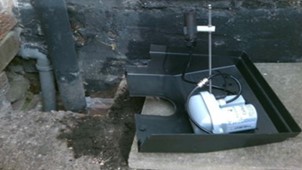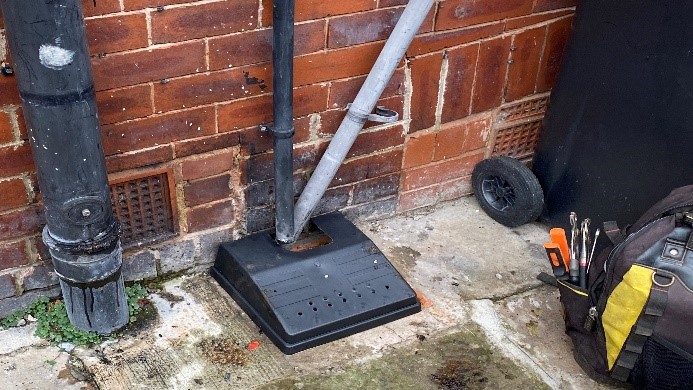 Which type will I have installed?
Before installation is carried out, we'll have a look in your garden/yard to see which logger would be best for you. Not all properties will be suitable for us to fit a logger.
Will this stop water flowing into the drain?
No. Tests have been carried out and it has no impact on flows. While the monitor is in place you can clean your gulley as usual, just pop it back in the same position when you do.
Does it make a noise?
No. There's no noise.
How long will it be there for?
The battery life of the device will last around 5-7 years, at which time we may replace the device for another 5-7 years or remove it from your property.