Weevils released in West Yorkshire to control floating pennywort sustainably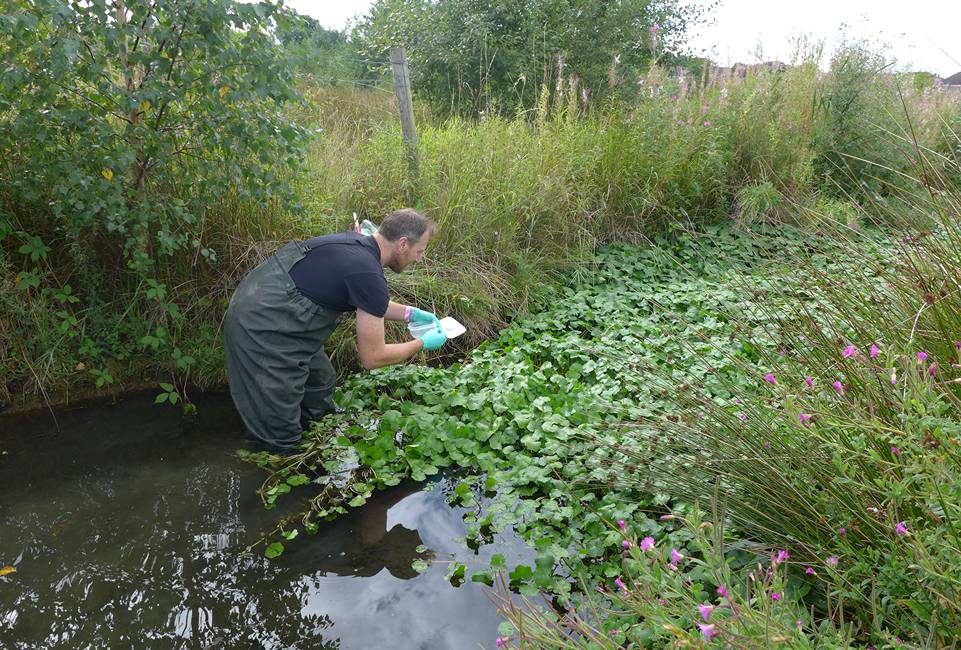 Land and recreation
Floating pennywort weevils have been introduced as a biocontrol to two sites in West Yorkshire to control the growth of floating pennywort – an invasive non-native species (INNS) which can choke the life out of watercourses.
The project, a collaboration between Yorkshire Water, CABI (Centre for Agriculture and Bioscience International), Leeds Council, River Holme Connections and a private landowner, saw weevils released at sites on the Aire and Calder Navigation and one of the tributaries of the River Holme.
The weevils will target floating pennywort, or Hydrocotyle ranunculoides, which is native to Central and South America and was brought to the UK in the 1980s as an ornamental plant for the aquatic trade.
As has been the way for many INNS, it escaped and quickly spread to natural habitats and now impacts slow-flowing river systems and water bodies. Incredibly, this invasive plant can grow up to 20cm a day and forms dense vegetative mats, reducing the availability of oxygen in the water, threatening fish and invertebrates, choking drainage systems, outcompeting native water plants and posing a risk to livestock, dogs and human health.
After years of safety testing and research by CABI, a South American weevil, Listronotus elongatus, was given Ministerial approval for release in England to act as a natural pest control. The weevil has co-evolved with floating pennywort in its native range to only feed and develop on this plant host and reunited with it in the invaded range, it can help to control its spread without the need for mechanical or chemical interference in the watercourses.
Dr Steph Bradbeer, invasive species and biosecurity advisor at Yorkshire Water, said: "Invasive non-native species pose a very real risk to Yorkshire's environment and wildlife. They can also impact on our ability to treat and distribute water to homes and return wastewater safely to the environment. Floating pennywort, if unchecked, can cause significant problems in slow-flowing watercourses and impact drainage systems. We hope the release of these specialist weevils will provide a way of tackling it without the need for mechanical or chemical intervention."
The weevils have now been introduced to two sites in West Yorkshire and will be closely monitored, with their impact on the spread of floating pennywort carefully measured.
Djami Djeddour, senior project scientist at CABI, said: "These weevil releases are the culmination of over a decade of collaboration with South American scientists and comprehensive safety and efficacy testing in our quarantine facilities, so it is thrilling to finally get them out into the wild. This is the 4th biocontrol agent approved for release against a non-native weed in the UK. Globally, where biocontrol has been used for over a century, there have been some spectacular successes targeting invasive aquatic weeds with specialist weevils so we are hopeful that this weevil will also make a significant and sustainable contribution to the management of floating pennywort across the country."
Leeds City Council executive member for infrastructure and climate Councillor Helen Hayden said: "Leeds City Council are continuously exploring ways to improve our processes to benefit the environment and reduce financial pressures on our services. The control measures to keep our flood defences clear of invasive non-native species are reoccurring tasks for our team, they can be costly, time intensive and may rely on the use of chemicals. We look forward to the positive impact to local biodiversity and water quality from the introduction of the weevils and will welcome any further innovations on tackling invasive non-native species."
Simon Hirst, river steward at River Holme Connections, said: "We are excited to be involved in this novel project, and we hope the weevil can control and prevent the spread of floating pennywort in the Holme Valley."