Yorkshire Water convert tanker to run on hydrogen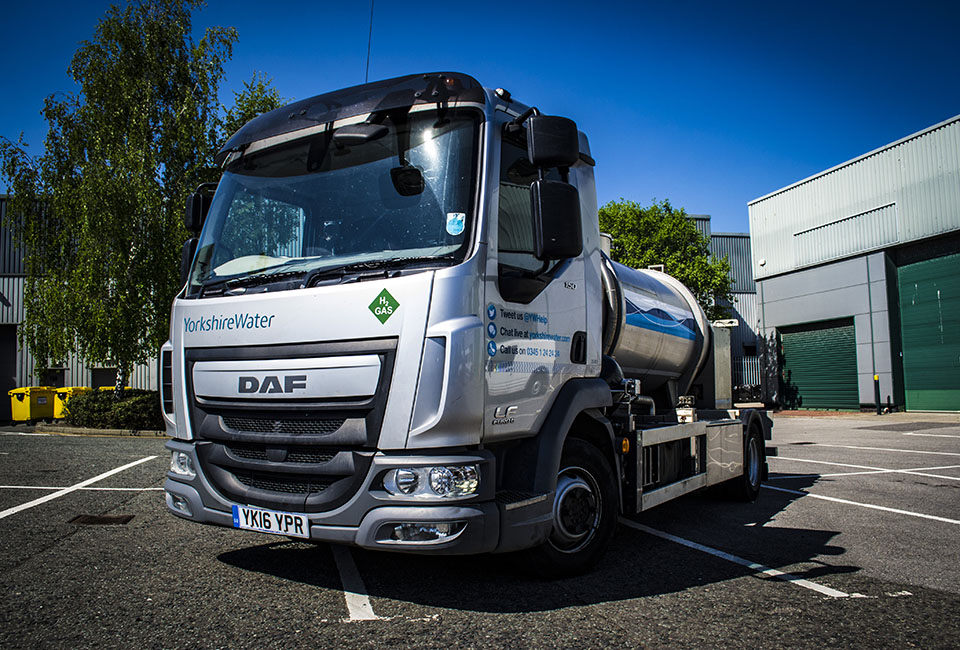 Innovation
Yorkshire Water's newly converted hydrogen vehicle is the first in the water industry.
The vehicle has been converted from a standard truck to use hydrogen dual fuel, an approach that allows fleet managers to transition more quickly to low carbon operation.
Last year the water company, in a joint statement with other UK water companies, set out its pledge to reduce the industry's carbon emissions to net zero by 2030. By converting a 7.5-tonne clean water tanker and removing the reliance on diesel, the vehicle will contribute to that target by using 33% less carbon.
Over the last six years Yorkshire Water has been working to reduce carbon emissions, and in 2019 achieved an 80% reduction in operational emissions compared to 2005. Amongst the measures to reduce carbon, the company is developing a 10-year plan to decarbonise its fleet, including introducing electric vehicles and piloting the use of CNG and hydrogen powered vehicles.
The first hydrogen vehicle in the company's fleet, delivered by Yorkshire Water Innovation, is a 7.5-tonne large good vehicle (LGV) clean water tanker, which will be deployed in the supply restoration team in South Yorkshire.  It will refuel at ITM Power's hydrogen filling station at the Advanced Manufacturing Park, Catcliffe, where wind power is converted highly efficiently to hydrogen.
Dr Graham Cooley, CEO, ITM Power said: "We are very happy to be providing a hydrogen refuelling solution to Yorkshire Water for their new tanker vehicle.  The Hydrogen Refuelling Station at the AMP in Rotherham demonstrates how electricity from wind turbines can be utilised to make the cleanest fuel source, green hydrogen which is suitable for a wide range of new vehicles types."
David Hibbs, transport general manager for Yorkshire Water said: "We're really looking forward to getting our new hydrogen tanker on the roads – to have the first of its kind in the industry is really exciting and just goes to show that we are committed to reducing our carbon output, willing to invest in innovations and change the way we work in Yorkshire Water to do so."
This project is the first step in exploring how the company can use hydrogen to its fullest potential as a zero carbon fuel and create value to keep customer bills low.
For more information on Yorkshire Water's innovation projects, please visit https://www.yorkshirewater.com/about-us/what-we-do/innovation/