Our work on the coast
From 2010 to 2015 we spent £110 million to help create some of the best beaches and cleanest bathing water in Europe. By working together in partnership with other organisations we improved our coastal treatment processes to help protect public health and the environment. Bathing water quality in the region is already very high, but the revised European standards raised the bar. 
You can read on to find out about some of our coastal projects and get ideas your next trip to the coast. You can also get more inspiration on visiting the coast on the Welcome to Yorkshire website.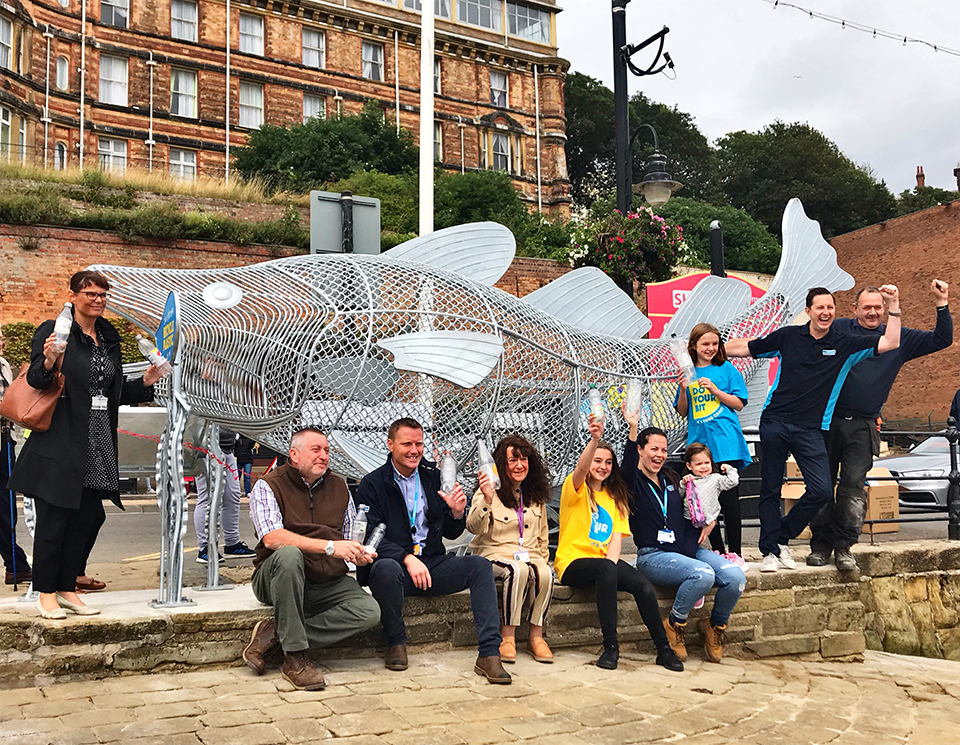 See what we've been up to
£1m bathing water project
In 2020, we spent £1 million on an intensive sampling and modelling project at two of Yorkshire's most well-known and popular beaches, Scarborough South and Bridlington South. Working alongside the Environment Agency, Scarborough Borough Council and East Riding of Yorkshire Council, this project will feed into the Environment Agency's pollution risk forecasting system.
Read more about the £1m bathing water project
Our partnership approach
With the introduction of the revised Bathing Water Directive, we wanted to share expertise and local knowledge as no one organisation could achieve all the required improvements alone. This is why a partnership approach was essential. Today, we still work closely with our partners under the Yorkshire Bathing Water Partnership.
Why did we do this?
The quality of sea water at officially designated bathing beaches is monitored and measured each and every year. For over 30 years the European Bathing Water Directive has set the standards for these bathing waters and has driven huge improvements in water quality.
Until 2014, bathing waters could achieve one of two possible quality levels:
Mandatory - required standard for a beach to 'pass' the current directive
Guideline - the highest possible current level
The original directive however needed updating to recognise big developments in scientific understanding. That's why the 'revised Bathing Water Directive' was agreed. This new directive sets much higher water quality standards, has different measuring criteria and puts more emphasis on information available to the public. Since 2015, bathing waters have been classified under the revised bathing water directive. Under this legislation, bathing waters are classified into four different categories:
Excellent
Good
Sufficient
Poor
Managing stormwater
What is a combined sewer overflow (CSO)?
Most of the UK's sewerage systems are made up of combined sewers. Combined sewers carry both foul water from homes and businesses as well as rainwater which falls onto paved areas and roofs. Usually wastewater in sewers travels to one of our waste water treatment works to be treated before its put back into rivers or the sea.  During significant rainfall however we need CSOs in order to reduce the pressure on sewers. They act as essential relief valves, diverting heavily diluted storm water into rivers or the sea and, in turn, can prevent flooding to properties and roads. These relief valves are called Combined Sewer Overflows (CSOs) and are licensed by the Environment Agency.
How do CSOs work on the coast?
We have 56 CSOs on the coast which can operate at times of significant rainfall. Some can overflow at or near beaches and some flow into nearby watercourses. Many of these overflows connect to long pipes, called outfalls, which extend hundreds of meters into the sea.

We have recently invested £110 million to help reduce the chance of overflows from CSOs,  constructing many underground tanks which can temporarily store large volumes of storm water, reducing pressure on the sewers. These play an important role by capturing the first flush of storm water from the sewers which tends to be the most concentrated.
Can CSOs affect the quality of sea water?
Since CSOs should only operate during times of significant rainfall, any storm water released from them will be very dilute because of the large volumes of rainwater within the system. Also, as soon as it enters the sea the water will be diluted even further, and any bacteria will start to be destroyed by natural processes.  All CSOs are fitted with screens that help remove debris.

The average quality of sea water at Yorkshire's beaches is closely monitored and measured by the Environment Agency with hundreds of sea water samples taken each year. They are already among the cleanest beaches in the UK and are set to become even cleaner due to our investment. You can find out more about bathing water quality and Yorkshire Water CSO locations at specific beaches from the EA website.
Can I find out when a CSO overflows near me?
We believe in providing people with information which can help them make informed choices about when to go in the sea. That's why we're working with the environmental charity Surfers Against Sewage (SAS) to provide a real-time notifications service. This service lets people know by text message or online when certain coastal CSOs overflow.

 Visit SAS for more information